ANN ARBOR, Mich. — Michigan Wolverines football coach Jim Harbaugh didn't mince words when asked Monday about the recent protest made by his former quarterback, Colin Kaepernick.
"I acknowledge his right to do that. I don't respect the motivation or the action," said Harbaugh, who coached Kaepernick with the San Francisco 49ers.
Harbaugh looked to clarify his comments in a tweet later Monday.
Kaepernick remained seated while the national anthem played prior to the 49ers' preseason game Friday against the Green Bay Packers. After the game, he told reporters he sat because he didn't want to show pride in a country that oppresses people of color.
"To me, this is bigger than football, and it would be selfish on my part to look the other way," Kaepernick told reporters. "There are bodies in the street and people getting paid leave and getting away with murder."
Harbaugh coached Kaepernick in San Francisco for four seasons before leaving for the Michigan job last year. Harbaugh benched Alex Smith in favor of Kaepernick in 2012, giving Kaepernick an opportunity to rise to a higher profile in the NFL.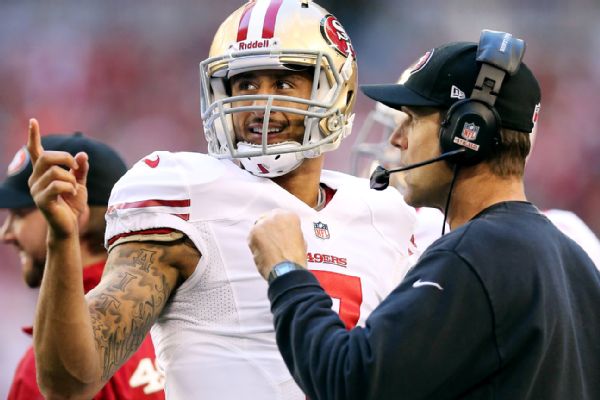 Harbaugh's brother, Baltimore Ravens coach John Harbaugh, said Monday that he respected Kaepernick's right to protest, even if he doesn't agree with how he's doing it.